Making Memories in Dubai: Theme Park Reviews and Expert Recommendations!
Making Memories in Dubai: Theme Park Reviews and Expert Recommendations!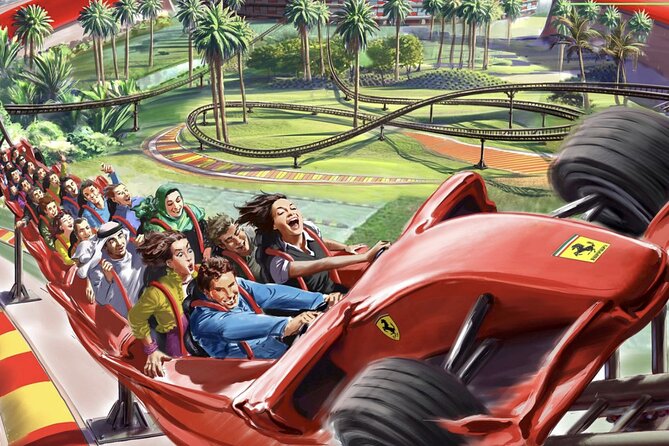 Dubai, the gleaming city of the United Arab Emirates, is a paradise for thrill-seekers and adventure enthusiasts. With its awe-inspiring skyscrapers, luxurious resorts, and extravagant shopping malls, Dubai is also home to some of the most exciting theme parks in the world. Whether you're a kid or just a kid at heart, these theme parks offer an unforgettable experience that will leave you with cherished memories. In this blog, we'll review some of the top theme parks in Dubai and provide expert recommendations to ensure you make the most of your visit.
1. Ferrari World Abu Dhabi
Buckle up for an adrenaline-fueled experience at Ferrari World Abu Dhabi, located just a short drive away from Dubai. As the world's first Ferrari-branded theme park, it promises an unmatched blend of luxury, speed, and excitement. From thrilling roller coasters that race through the iconic red roof to state-of-the-art racing simulators, every moment here is sure to get your heart pounding. Don't miss the chance to take a ride on Formula Rossa, the fastest roller coaster on the planet!
 Arrive early to beat the crowds and make a beeline for Formula Rossa to experience the breathtaking speed without a long wait.
2. IMG Worlds of Adventure
Prepare to be transported to the world of your favorite superheroes and cartoon characters at IMG Worlds of Adventure, the largest indoor theme park on Earth. With zones dedicated to Marvel, Cartoon Network, and even the prehistoric era, there's something for everyone in the family to enjoy. From battling alongside Iron Man to meeting the lovable characters of Adventure Time, you'll find yourself immersed in a world of pure entertainment.
 Don't forget to bring comfortable shoes, as there's a lot of ground to cover in this massive indoor wonderland.
Read more here 
3. Dubai Parks and Resorts
Dubai Parks and Resorts is not just one park but a collection of four incredible theme parks in one destination. Bollywood Parks Dubai celebrates the vibrant world of Indian cinema, LEGOLAND Dubai brings the iconic bricks to life, LEGOLAND Water Park offers refreshing aquatic adventures, and Motiongate Dubai takes you behind the scenes of your favorite Hollywood movies. From family-friendly attractions to thrilling rides for brave souls, Dubai Parks and Resorts have it all.
 Consider purchasing a multi-park pass to experience all four parks, as it offers better value for money.
4. Aquaventure Waterpark
Escape the scorching desert heat and dive into a world of aquatic fun at Aquaventure Waterpark, nestled within the iconic Atlantis, The Palm resort. Feel the rush as you slide down the Tower of Neptune or take a daring leap into the Shark Lagoon on the Leap of Faith slide. The waterpark also boasts a 700-meter-long lazy river and a dedicated kids' area, making it an ideal destination for families.
 Arrive early or stay late to enjoy the waterpark with fewer crowds and shorter lines for popular slides.
5. Wild Wadi Waterpark
Situated right in front of the stunning Burj Al Arab Jumeirah, Wild Wadi Waterpark is themed around the tale of Juha, a character from Arabian folklore. With a variety of water slides, wave pools, and a lazy river, this park is a perfect retreat for a fun-filled day with friends and family. Don't miss the exhilarating Tantrum Alley and Burj Surj slides, offering twists and turns like no other.
 Rent a private cabana for a more exclusive and relaxing experience, complete with personalized service.
Conclusion
Dubai theme parks offer an unforgettable blend of excitement, entertainment, and thrills that will create lasting memories for visitors of all ages. From the heart-pounding speed of Ferrari World Abu Dhabi to the magical world of IMG Worlds of Adventure, and the diverse experiences at Dubai Parks and Resorts, there's something for everyone in this vibrant city. Whether you're an adventure seeker, a movie buff, or a water lover, Dubai's theme parks have it all. So, get ready to make memories that will stay with you forever as you embark on an unforgettable journey through the theme park wonderland of Dubai.
About Author 
Meet Rabia Rasheed, a passionate writer who loves to share her knowledge and experience about travel. She is associated with DSK Travels LLC, a leading travel agency. So, if you're planning your next adventure, be sure to follow Rabia's articles for expert advice and inspiration. Whether you're looking for the best destinations to visit, insider tips on saving money while traveling, or planning your dream trip, Rabia's articles are a must-read for anyone who loves to explore the world. So be sure to follow her articles for expert advice and inspiration!