Marble Marvel: The Timeless Elegance of White Benchtops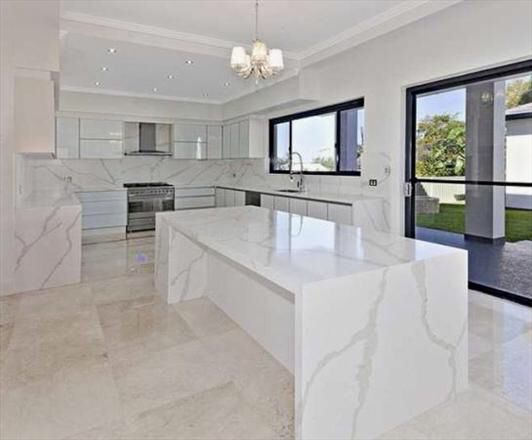 Marble benchtops add a touch of luxury to any kitchen. This is thanks to its dramatic beauty and timeless appeal. It's also a very durable material and has been used to construct luxurious structures for centuries. However, like all natural stone, it is a somewhat porous material that requires yearly or bi-yearly resealing to protect it from staining.
White Marble Benchtop
A White Marble Benchtop is a beautiful and luxurious addition to any kitchen. This natural stone is an elegant and classic centrepiece that makes a stunning impression on guests. However, due to its delicate nature, it is also a high-maintenance material that requires special care and cleaning. A yearly or bi-yearly resealing of the marble will ensure that this somewhat porous material is protected from the liquid spills that are inevitable in any kitchen. Especially if the kitchen contains strongly coloured or acidic foods and ingredients (such as red wine, turmeric etc).
Polishing your marble worktop is easy and will help keep it looking shiny and new. To polish your marble, simply use a diamond pad or a soft cloth and buff it over the surface of the stone, making circular motions. Make sure that you always end at the centre of the marble. You can buff the marble in several different ways, such as right to left or upwards and downwards – just ensure that you always end up at the centre of the benchtop.
To remove any grease stains, use a little bit of dishwashing liquid and water, or a commercial cleaner that is safe for your marble. Alternatively, you can use a poultice made with bicarb soda to treat stubborn stains and grease marks.
White Stone Benchtop Colours
The key is choosing the right shade of white. It can make or break the kitchen – a pale, softly flecked stone is ideal for a light, contemporary interior, while an unblemished stone with a polished finish brings a classic touch to a traditional kitchen. If you're opting for dark cabinets, look for a natural or engineered stone with a lighter base tone to keep it feeling less dramatic than a darker, richly veined marble. Similarly, if you're using timber veneer or laminate for cabinetry fronts, choose a stone with similar tones to help the benchtop and cabinets connect.
It's also worth inspecting stone options in person before you proceed to avoid falling for a colour online that may not be as true to the full slab as you'd hope. If possible, bring a selection of your cabinetry and furniture with you to see how the stone pairs up. The same goes for polished vs matt finishes. A matte finish is less reflective and works much better with wood tones.
White Concrete Benchtop
If you love the look of White Concrete Benchtop but are concerned about the cost of natural stone, concrete benchtops could be a good alternative. They can be customised in a range of colours and can also mimic the texture of marble. However, be aware that concrete can scratch or etch when exposed to acidic liquids like vinegar or lemon juice. For this reason, it is recommended to use a benchtop protector and to wipe down the surface regularly. Also, you should avoid cutting directly onto the surface and instead use a chopping board. This will ensure that your utensils don't leave marks or scratches on the surface of your white concrete benchtop.
While it might be a little less hygienic than marble, it is extremely durable. This is because it can be poured without any joins and is also highly customisable. It is a popular choice for contemporary kitchens, and can be finished in a range of textures. Like all benchtop materials, it does require yearly or bi-yearly resealing to protect the somewhat porous material from the liquids that are bound to drip onto it in the kitchen. However, it is also heat resistant. This makes it a great option for homes and commercial settings that need a hygienic and hardwearing benchtop material.